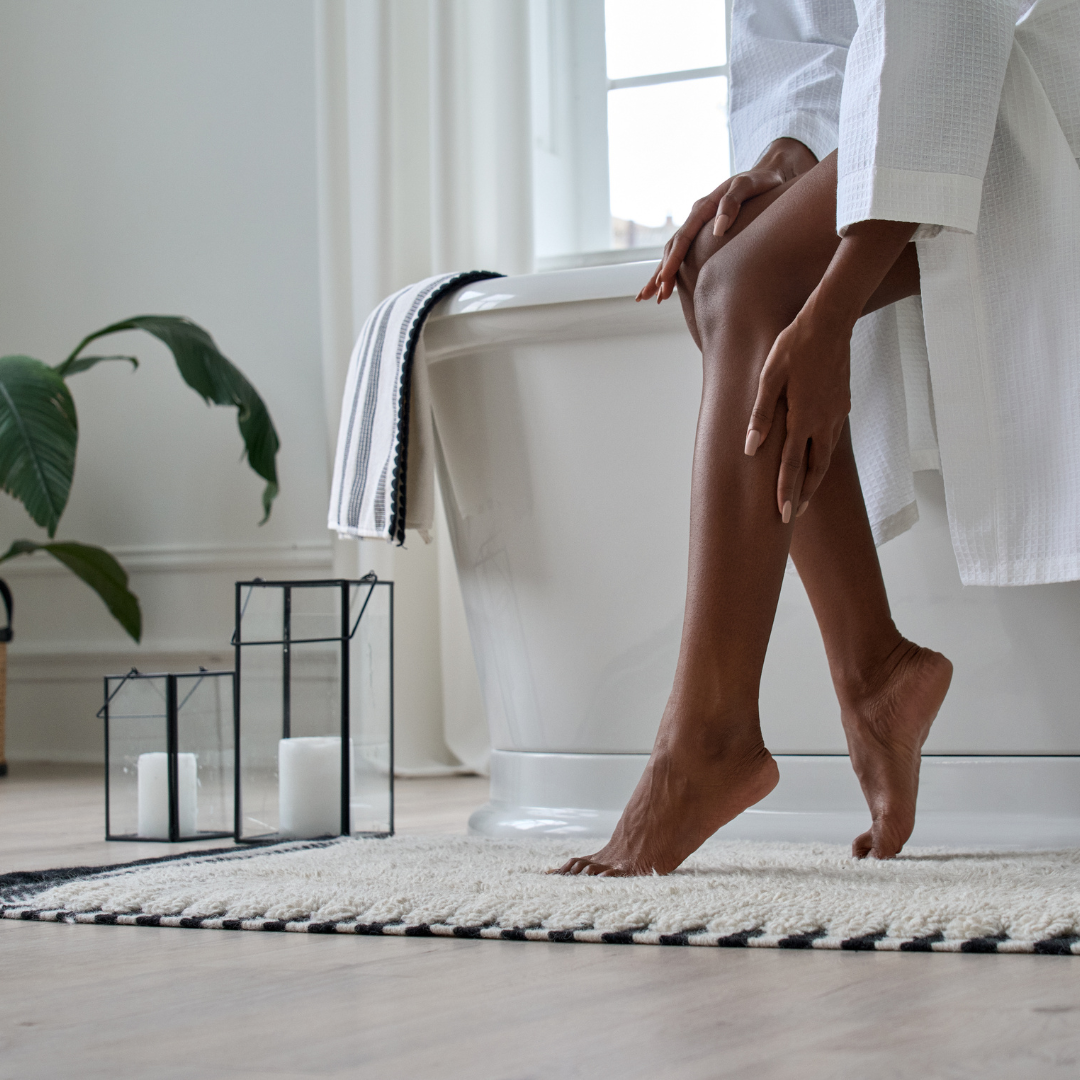 9 Must Have Accessories To Elevate Your Bath Time Routine
By Sascha Ealey
I don't know about you, but the bath is my cocoon, my place for relaxation and self-care.  Even as a child, it was a strong combination of bliss, combined with the mature joys relaxation brings. As an adult, I'm all for making my bath soaks luxurious. The shower water comes as perfect rain, warm, and steady drops, awakening my skin in all the right ways. In the bubble bath, I have extended moments to reconnect to my true emotions, to ask myself how I feel deep within, to at least remove all the masks for myself. In the bubble bath, my soul is the champagne. The shower water, hot and abundant, is by far my favorite part of the day. 
Need some inspiration on how to have the best bath experience? The RVL Squad has got you covered! Boost your self-care routines with these bath accessories that will help relax and de-stress you with every shower or bath. This blog post will give you the basics on how you can maximize your self-care bath routine.
Before we can begin to think about some products used for a great bath time, we must first get into the mindset and be present as part of the experience. You should truly enjoy and appreciate the moment. For me, the bathroom is seen as a place of sanctuary and a way of loving myself, and of caring for the mother that my children rely upon to stay healthy and well balanced. Taking a shower is taking time for yourself, to recenter and feel your calm nature return, but there is a way to make your bath extra special. 
1. Light a Candle
I'm obsessed with candles.
Use a candle to set the mood for your bath time. The Yankee candle brand  is my go to, particularly any candle scents that will make the bathroom feel and smell like a spa will be great. 
2. Add Essential Oils or Bath Bombs to Your Bath Water
My personal bath routine consists of a mixture of bath oils and salts. I love the way they make my skin feel, especially before I lay my head in my bed for a good night's sleep. To make your bath water extra special, add a few drops of an essential oil of your choice to the water. Lavender is an obvious option to relax at nighttime, but anything can go. So feel free to add sweet orange, lemon, peppermint, sandalwood, or chamomile. If you don't want to go the essential oil route, try bath bombs. Bath bombs were so popular a few years ago and are now being added as part of the bath self-care routine. It's soothing to see your bath water turn colors. 
3. Wear a Shower Cap
Let's not forget our shower cap. Whether you are technically taking a shower or not, you'd still want to have a shower cap to prevent your hair from frizzing or messing up any style that you may have. I know, especially as someone who has hair that frizzes up, that I always have to use a shower cap. 
4. Use a Bathtub Caddy Tray
You see them in most self-care bath photos on social media and for good reason! Use a bath tray to hold a glass of wine and a sweet treat. This will be the icing on the cake for you to relax.
5. Choose the Right Body Wash, Soap, or Exfoliating Scrub for You
A simple thing you can do for your skin is to find the best body wash or soap for your skin's needs. I am currently looking for a body wash such as Raw Sugar from Target, that helps moisturize my skin. Finding products that suit you is a beauty activity that will make your life easier. 
You can get rid of your dry skin cells with a nice exfoliating scrub. I personally use this Brown Sugar Body Scrub from Brooklyn Botany. 
6. Get a Back Brush
It's so hard to reach your back and clean it. Make it easier for yourself by getting a great back brush like this one from Target or a local store near you.
7. Make Time For Proper Skincare
If you don't know, skincare is an important part of self-care and is highly recommended to do after a bath. To improve your bath routine, you can include using a green face mask or even a sheet mask. Clay masks are my favorite because they draw out skin impurities like a magnet. You can also do your regular skincare routine. 
8. Get You a Plush Towel or Robe
Having a comfortable robe or towel is essential to have right after bathing. There is something about a nice, soft towel or robe that relaxes you. Buy yourself a set of towels and a robe that are soft and plush. 
9. Try a RVL Wellness Puzzle
After your shower and you are in a relaxed state, why not try one of our RVL Puzzles. 
I recommend the Brunch Puzzle and the Protect Your Peace Puzzle because they both fit the theme of bath time and after bath time relaxation. 
The Brunch Puzzle gives the feeling of a hotel suite and having room service delivered to your door. This sis has gotten the memo with the plush bathrobe and head towel wrapped around her head. She is sitting in a relaxed state with one leg on the couch and drink in hand. With doing this puzzle, you are reassured that self-care can feel like a 5-star experience. 
In the Protect Your Peace Puzzle, it's not just a bathtub, it's like a tiny swimming pool. An oasis. The woman soaks in that water (I want to imagine that it is heated water) and she feels it hug every inch of her skin so gently, breathing in the aroma of the bubble bath. Her head is tilted back, indicating that it is her heaven, her mini vacation, and a place to breath deeply, and let her inner peace return. Passing time, soaking into the moment, she shows us that happiness is in contentment that requires self-love. When put together, this artwork shows us the perfect reminder to relax and indulge in a nice warm bubble bath. Both puzzles embody self-care goals. 
I wish I could stay there all day in the bathtub, but the day or night awaits. After the shower or bath cocoon, I leave an energized butterfly. 
Enjoying your bath is one of the most stress relieving self-care activities you can do. I promise, it won't cost you much money. The beauty is, you can also do it whenever you want. By simply taking a bath and adding elements to it, You can check it off one self-care activity. You can also always change or improve your self-care bath routine with some new ideas. I hope this blog connects with you in some way. If so, let us know in the comments below!