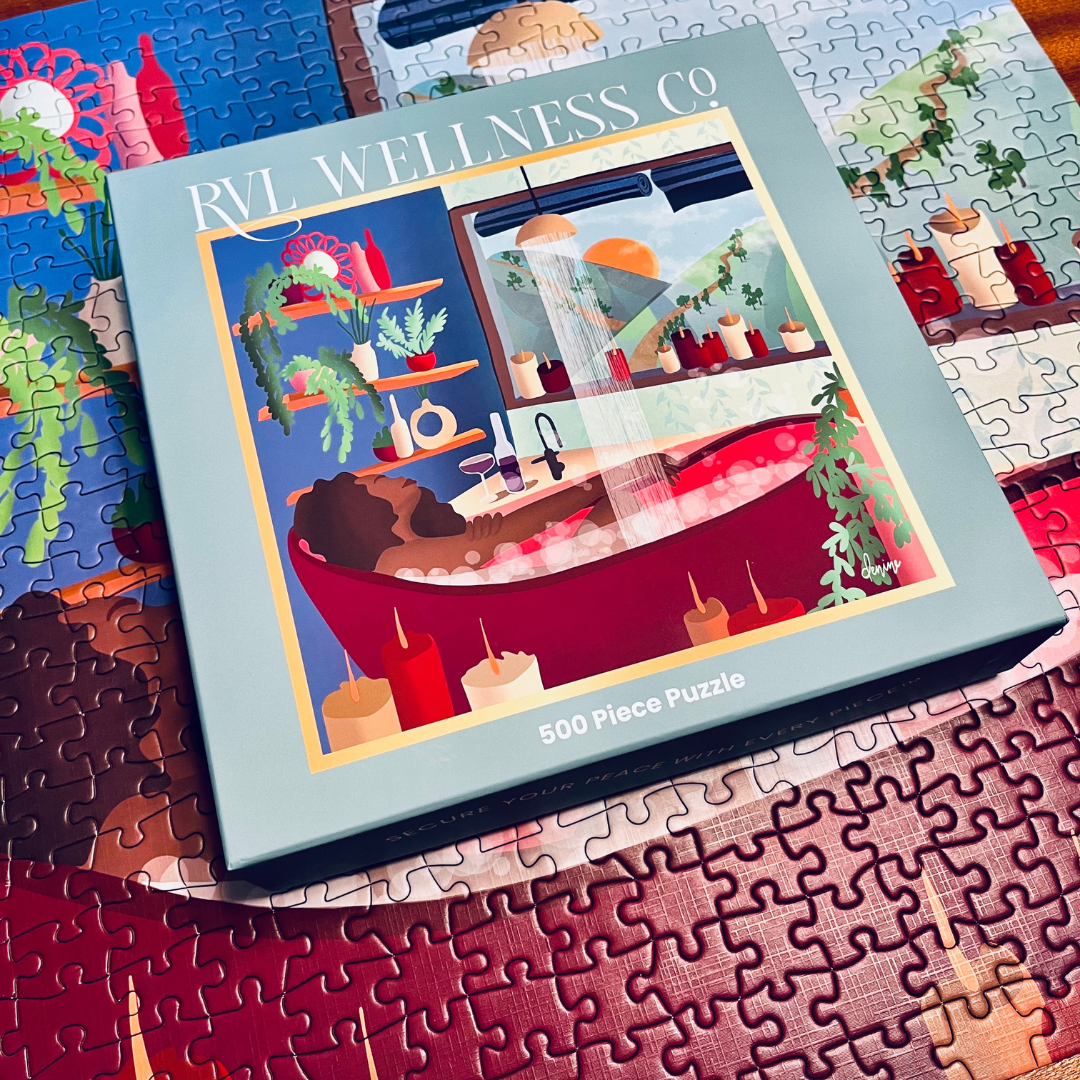 5 Things You Can Do After You've Completed A Puzzle
So You've Finally Finished Your Puzzle, Now What?
Congratulations, you did it! You finally finished putting together your new RVL masterpiece. You took your time, secured your peace and now what? The fun doesn't have to end there. Here are 5 ways to keep the party going and cherish your accomplishment for years to come:
1. Glue It & Frame It
If doing this puzzle one time is enough for you and you are sure you won't attempt to do it again, the best way to preserve it is to display it. Gluing is the best permanent way to keep the puzzle intact. Brush a clear-drying glue over the surface to keep the whole thing together.  I recommend getting The Jigsaw Puzzle Glue with Applicator by CraZArt. To glue the pieces together, place something like cardboard under the puzzle to ensure that the pieces are as flat as possible. Pour the glue on top of the puzzle pieces and then use something like a piece of cardboard or business card to help spread the glue evenly all over the puzzle. Allow the glue to dry thoroughly before touching. I recommend gluing down both sides. Use a ruler or spatula to separate the puzzle from the board. Gluing both sides will provide the greatest stability and prevent pieces from coming loose. For those of who are visual like me, here is a video that you can watch on how to apply the glue --> Link
You can then slide the right-sized frame and hang it on the wall to serve as art!
2. Take a Pic of Your Finished Masterpiece

Create a memento by taking a picture of your finished product. You can easily take this on your smartphone. Keep your picture as personal enjoyment and share your finished product with your family or friends. Post it on Facebook or Instagram. You can even take it up a notch by creating a digital picture frame so that it pops up on your phone as a reminder.
3. Gift Your Puzzle
If you know someone who not only loves puzzles but will enjoy a peaceful images, then gift it to a friend or family member. Puzzles are not only a great experience gift, but when you give someone a gift based on their interests, it shows that you pay attention.
4. Save This Favorite Jigsaw Puzzle
Do you know how some people like to reread the same book? Well, you can use the same idea with your favorite puzzle. You can build it again and again on a lazy weekend afternoon or whenever you feel called to do so.
5. Host a Puzzle Swap
Get together with family and friends over a shared love of puzzles and swap with each other. What's old to you, might be new to them and vice versa. A puzzle swap fosters a sense of community and ensures that everyone has plenty of puzzles to keep them busy.
Pat yourself on the back for completing a puzzle from start to finish and finding creative ways to preserve it. We want to hear from you. If you decide to purchase and complete a RVL puzzle, we would like you to share your photo or video with us.