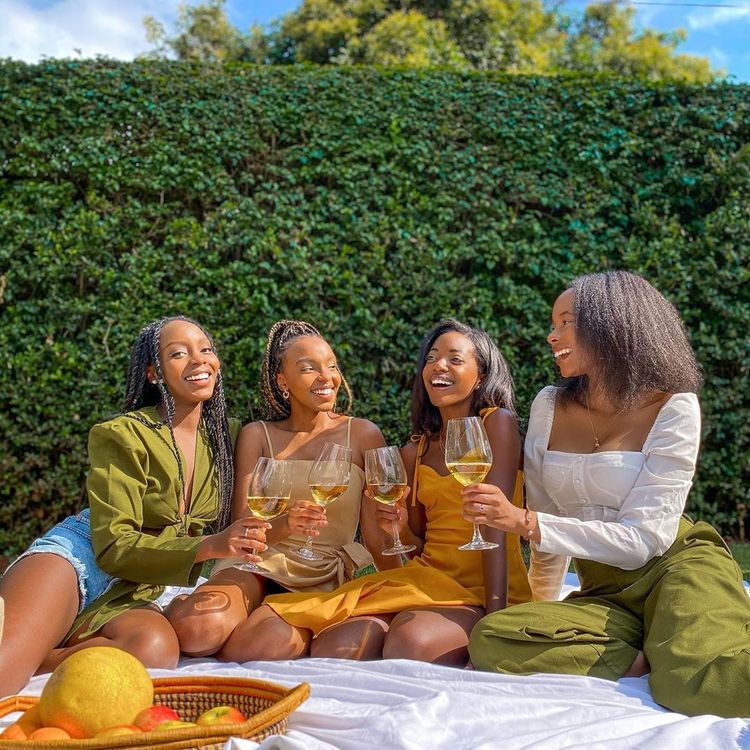 Plan the Perfect Soft Girl Picnic
By Shaquana Rodd
Imagine a sea full of beautiful Black faces spread across bright green grasses and sun-kissed melanin skin. The feeling of being carefree is one of the most exhilarating emotions we can encounter. Here at RVL Wellness, we love to introduce all forms of Self Care because there's more than one way to get the party started. We believe you deserve to have options and that's exactly what we're bringing to you here. If young Black men can frolic in the field, you most certainly can enjoy the wonders of nature as well. This Summer is the perfect time to visit your favorite park while embracing Mother Nature and creating special moments with your loved ones by hosting a picnic they'll never forget. Soak up all the wonderful Vitamin D that our skin absorbs so well with your sweetie or your crew of friends and create memories you will never forget. Don't have the slightest clue on how to plan a proper picnic? Don't worry RVL Wellness has you covered. So sit back and relax as we help you plan the Perfect Soft Girl Picnic!
Venue
The first order of business is location.
Honestly it depends on what you're in the mood for and the space that you have available to you. Most often picnics are held at nearby parks which is standard, but it's not the end all be all. Choose the location that feels most organic to you whether it be an area near a riverbank or creek, at the beach, or even on the rooftop of your residence. It's your picnic and you set the vibe however you see fit. It all depends on your geographical location, venue availability, but most importantly, selecting the perfect place to help restore your peace and offers you the stillness and reset you deserve. Remember the choice is up to you, do what feels right in your spirit, but don't overthink it.
Menu
Good food is always the move! Who wants to spend time preparing or cooking if we don't have to; remember this summer we're stepping into our soft girl era and that means implementing ease and convenience. Why not make it easier on yourself and pick up some ready-made items from Publix or your favorite local grocer so that you can focus on more important things...like your outfit! Lol. Go-to items like a charcuterie spread with cheese and crackers, wine, various fruit, and even sushi would be great handheld snacks that will for sure to set the mood for the perfect picnic this summer. If you want to make this a special picnic date with your lover, check out these Romantic Picnic Ideas perfect for you and that special someone. Most importantly, don't forget to bring a blanket to rest all your items upon, preferably one you don't mind getting dirty.
Vibes
Did the picnic really happen if you didn't capture the moment and post it on the gram, I mean seriously. All jokes aside, having tangible evidence that such a wonderful time was had is always a vibe and a great way to hold on to such wonderful memories. So take pictures, create a bomb Summer Jams playlist but please don't forget to bring your RVL Wellness goodies along as well. You can't go wrong with either the Squad Puzzle or Black Love Puzzle for this occasion. Movement meditation through puzzling is a great way to quiet your mind of all the stressors and responsibilities that place a huge toll on our mental and physical bodies. Dedicating time to address your needs and nurture yourself is essential when others are dependent upon you. No matter if you're reading a book or meditating to the serene sounds of still waters, replenishing your energy is necessary in navigating such a hectic and demanding life.
Attire
Creating a theme for the picnic is a fun way to spice up things and add an exciting element to this occasion. Use your imagination and think of the funniest costumes or cosplay ideas. You can even choose a movie or TV show theme like Martin or Bridgerton. Imagine 19th Century Royal Chic as the theme or even an all-white affair. The possibilities are many and you get to set the tone for this event. Maybe you're sticking with Soft Girl Glam, that's fun too. Playing dress up has always been a creative way to express oneself. Give yourself a reason to Glam up and look as beautiful as ever, even if you are purely doing it for yourself.
Luxe Picnic Providers
Really want to get into your Soft Girl Era and have it all planned for you, Say Less Friend! We've got plenty of recommendations to share, no gatekeeping here. If you are in Charlotte, NC or the surrounding area, then check out Noire Luxe Picnics. They offer custom packages that include everything plus the kitchen sink ranging from a private date night option to celebrating life's milestones with a group of friends. There's also Picnic N Parris who provides the most beautiful picnic decor along with the perfect luxury vibes. 
How could we forget Pretty Luxe Picnics in Atlanta, Georgia. Their motto is "Celebrating Life In An Extraordinary Way" and they do just that with their extravagant décor and unique offerings. Who'd ever imagine Luxe Stargazing staring into the night sky or cruising the river on a Luxurious Bentley Boat with the finest foods at your fingertips. One thing that's for sure, Pretty Luxe Picnics has set the standard for Black Luxe Picnics. New Orleans don't think we forgot about you, Luxury Picnics Nola is ready to serve you as well. They can create whimsical, intimate settings right in the comfort of your home for a varying range of guests. Rather it's a private or large group, Luxury Picnics Nola can accommodate your needs. of attendees with your choice of venue indoors included. And if you just want to pull up, check out the third annual Black Girl Picnic in the Queen City of Charlotte, NC happening on September 16, 2023!
Orchestrating a picnic should be fun and not stressful, if you are finding yourself stressed don't hesitate to get your friends involved in the planning as well. Make it as intimate or open as you desire, just don't forget the purpose is to implement this as a form of self-care. We hope this has inspired ways to incorporate joy, nature, and stillness into your life's routine.
Until next time, stay well!