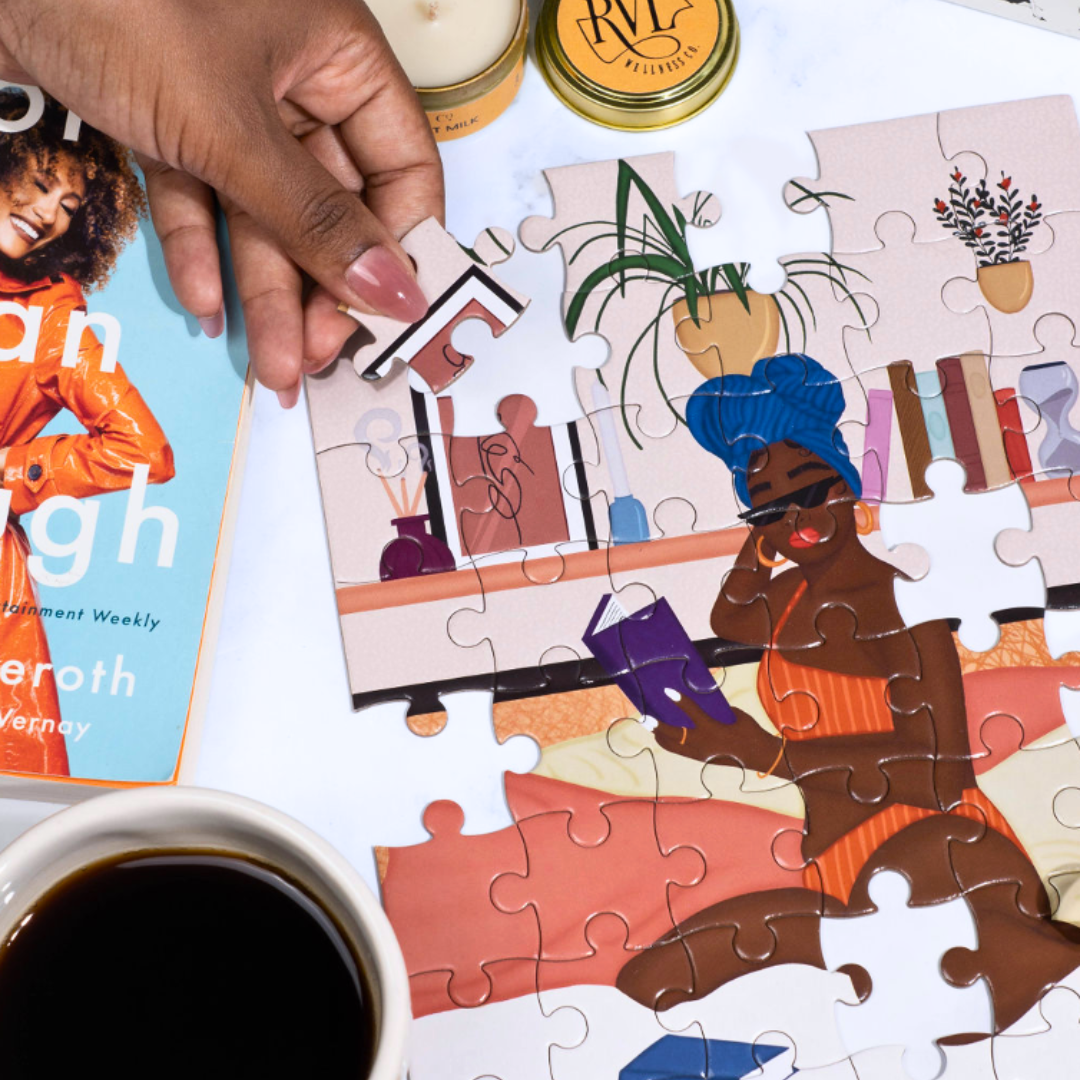 7 Helpful Tips For Puzzle Beginners
By Sascha Ealey
Starting a new hobby can be both overwhelming and exciting. That's why I want to lay out some simple tips that are sure to give you a smooth puzzling experience. Puzzling is the perfect solution to the hustle and flow that everyday life has become. It's a great way to relax, unwind and most importantly, it's an inexpensive fun hobby. You must be wondering how best to start though. So let me guide you on this journey to starting your first puzzle:
1. Choose The Right Workspace
Before you begin a puzzle, make sure you have enough space to group your puzzle pieces together. Choose a comfortable space where you can lay out the pieces. You can choose places such as the dining table, the living room, or a spacious spot in your room. The dining table was my great-grandmother's favorite place to do all her jigsaw puzzles. The main thing to keep in mind is that your puzzle needs to be on a flat surface. You also need to keep in mind the size of that surface and make sure you have enough space for finished product.
2. Consider The Number of Puzzle Pieces 
For new puzzlers, we'd recommend starting with puzzles ranging from 48-100 pieces before venturing to 500 pieces or more. We don't want you to get too ambitious right away. It's all about building up your skills! Try our new 48pc Reading and Relaxing Puzzle. It even comes with a delicious mango scented candle! 
3. Your Choice of Jigsaw Puzzles Matter
Try to avoid designs with the sky, ocean, snow, or mountains. They have a lot of pieces that are similar colors which makes them more difficult to figure out. Believe me, it will be very frustrating! Avoid images that have too much going on. Overly busy puzzles can do things to your eyes when you stare at them for a while. Try images that include clearly defined objects such as a people, plants or maybe even an animal. The goal is to pick a design that isn't too much of a challenge for you to get started. We'd recommend our 100pc Wine Down puzzle.
4. Always Start By Putting The Border Together First
Without an organizational system, new puzzlers can easily get frustrated. 
My great-grandmother was a master jigsaw puzzler and she taught me to separate the edge pieces from the inner ones. If you don't know, edge pieces are the ones that form the outline of the image. You can always tell an edge piece from the rest by their distinct straight edge(s). They are the easiest to put together because they aren't hidden by any other pieces.
5. Work Towards the Middle of The Puzzle
Keep going and build your puzzle piece by piece. Once you have completed the border, then you can start working your way towards the inside.  Remember, do not rush. Here at RVL, we always encourage our tribe to puzzle at your own pace. Focus on the journey and the process of building, rather than only looking at the final destination. 
Look for a distinctive part of the puzzle to piece together. For example, if you're doing a puzzle with an image of a bird, look for the wings or the beak first. This will save you from having to look for the edge pieces of the bird. It will also make the rest of the puzzle easier to complete. 
6. Sort Your Pieces
When puzzling, it's always a good idea to go in with a strategy. I recommend using these Puzzle Sorting Trays from Buffalo Games for separating pieces, but any trays will do. Yes, you will have to spend some time sorting the pieces out by color, but it will cost you more time to pick the puzzle pieces out one by one straight from the box. 
7. Take A Break
Even though your puzzle may be only 100 pieces, we encourage you to take a break if your eyes start to feel tired. The puzzle will still be there when you get back. Sometimes, we can get over-tired by staring at the pieces for too long. When this happens, it can take longer to find pieces that fit, and this can lead to frustration. We want this to be a fun and relaxing experience for you, so come back to the puzzle with a fresh pair of eyes. 
The feeling of accomplishment when you finish is puzzle is simply, muah *chef's kiss*. It's a feel-good feeling that makes you want more. If you feel you need more help, view this detailed walk-through YouTube video by Karen Kavett on How to Solve a Jigsaw Puzzle Quickly.
I hope that's enough tips for you to feel confident in how to start a jigsaw puzzle! Maybe these tips can even come in handy for a more experienced puzzler. To help you get started, get 20% off all 48pc puzzles from now until Friday 9/22 with code BEGINNER20 at checkout.
By referring to these tips above, find the right puzzle for you at RVL Wellness.