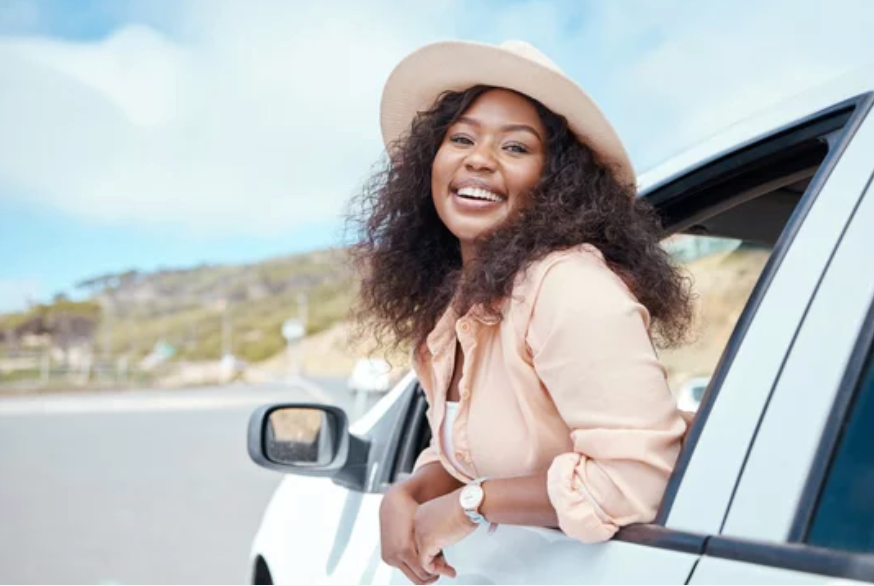 7 Essentials To Plan The Perfect Black Girl Magic Road Trip
By Shaquana Rodd
There are many ways to clear your mind but one of our favorite's is travel and that season is upon us. Now is the perfect time to take a trip - school has been dismissed and PTO is available for use so let's go!
Instead of catching flights let's take the scenic route, we promise it'll be more exciting than staring out of a plane window. So pull out your map (or GPS), grab some snacks, pack your patience, and buckle up because we're going on a road trip. If you have no idea where to go, don't worry, we've got you covered. There is so much to discover and explore in our own country, so much beyond what we are accustomed to and encounter daily. Breathtaking views, national monuments, and even gas stations are just waiting to be explored. This Summer, we'll help you plan a classic road trip that is guaranteed to create an experience to remember.
Let's start with packing our luggage! Of course, there's clothing, toiletries, and all of the essentials but we're talking specific road trip essentials. Things that you certainly need on the road for convenience and emergency purposes.
Here are our 7 Road Trip Essentials that are guaranteed to make your trip a success:
1. Pick A Route
First things first, you must know where you are going and what you're in the mood for! The United States has an array of landscapes, National Parks, and tourist attractions just waiting to be explored. We suggest starting with the end in mind and planning along the way. Ask yourself, 'what's your final destination' and then you have your start. If you are thinking of sunny California, then get ready for the ultimate experience. Your starting point determines your journey, however if you are leaving from North Carolina for example, then Interstate 40 will be your friend to the end. Maybe cross country isn't your thing just yet and you want to keep things within the same time zone, take a trip up I-95 to New York or follow the Mississippi River to Wisconsin and don't forget to bring your coins because the tolls are real.
2. The Itinerary
Strategically planning your stops can be a fun way to add adventure and create memories on your trip. The flexibility of your schedule and time constraints will determine how much you are allowed to deviate from the course at hand. For example, if you're traveling out West it may be worth it to stop in Tennessee for some delicious BBQ or check out Greenwood Rising Museum to learn more about Black Wall Street and the 1921 Tulsa Race Massacre in Oklahoma. There's even a Crayola Experience with various locations from Orlando, FL to Bloomington, MN. This trip is all about adventure. The world is your oyster, explore it at your will. If you aren't quite sure on what lies in your path and need help deciding where to stop, pick up a copy of The Global Green Book and check out I Love Black People to search for black friendly establishments, also try using Roadtrippers' Trip Planner to get a good idea of the many sites you will pass along the way.
3. Car Maintenance
Before you put the pedal to the metal, we must ensure that if you're using your personal vehicle that it is in tip top shape for the journey ahead. Scheduling routine maintenance with your dealership or mechanic is critical. This isn't just a spin around the block, this is long distance travel here. Making sure your tires are in excellent condition for extended use, oil has been changed, and all fluid levels are sufficient are super important to getting to your destination safe and sound. Also, in the event of an emergency, have jumper cables, a spare tire, flashlights, and First-Aid Kit on hand as a preventative measure. For it is better to stay ready than get ready!
4. Perfect Playlist
The days of surfing the airwaves for local FM stations are behind us, thank goodness. Driving in a car for hours can become somewhat redundant and boring, especially when the route you're taking isn't currently exciting. While the driver has the most important job of keeping their eyes on the road and ensuring the safety of all, so does the front seat passenger. This person plays a crucial role as well. In most cases, the passenger is the DJ and is tasked with not only keeping the driver up and alert but curating the perfect playlist of music that will keep the driver amped and focused on the road. Nowadays there are so many ways to stream music, you can choose between Spotify or Tidal and even tune into Sirius XM Radio. Let's not forget Car Karaoke either because singing along in the car is fun too. Starting a playlist is easy, just add the first song and the app will offer suggestions based on the genre and artist. To get you started, we included a playlist for you here.
5. Snacks
If this is not your first time on a road trip, then you know packing a cooler with drinks and having snacks and food handy will help alleviate unnecessary stops and spending when it comes to food. Maybe eating cold fried chicken on the road isn't your idea of a good meal but it certainly keeps the show on the road. We never said that road tripping was glamorous, although it could be, but the idea is to come prepared with your favorite munchies so that no time or resources are lost in the process. Suggested snacks are light, nourishing, and won't weigh you down or make you sleepy. Packing trail mix, fruit like bananas or apples, and even pre-made sandwiches are key to satisfying your hunger and providing you with sufficient energy to keep this trip on pace and schedule.
6. Mentality/Big Fun
We have our itinerary, a banging playlist, and some snacks to keep us going so now let's talk about some of the things to bring along with you that aren't necessarily tangible. Your Mindset! Just like life, you can plan all you want but there are just some things that are out of our control, and we just gotta roll with the punches. The #1 thing to bring along on this trip is an open mind. Try not to get too frustrated over the slightest inconveniences like traffic or weather conditions. They are bound to happen, instead use this as an opportunity to take a break to stretch and use the facilities. While unpacking your patience, don't forget to whip out your favorite RVL Wellness Puzzle as well, we just love the Safari puzzle and we think you will too. Its bright and bold patterns exude adventure, fun, and excitement, much like this trip. Use this time to slow your mind and allow the puzzle to lead you into a realm of tranquility and stillness. And if you find yourself getting restless with the ride and you're all snacked out, break out your reading materials or listen to an audiobook. As you cross into a new state, why not stop and take a picture at each welcome sign or use this Scratch off Map as a handy souvenir to keep track of all the states you've traveled through.
7. Benefits  
So, what do you stand to gain from exploring the open road! Well for starters, you are removing yourself from the comforts and stressors of daily life. And for the next few days it's just you, your riding partner(s), and the open road. Much like any vacation, you leave your problems behind. Yes, they'll still be there when you return but now is a time all about releasing stress and increasing relaxation.
Secondly, use this as a time for reflection. Have you become so ingrained in your monotonous routine in life that you've lost sight of the things that mean most to you? Don't trip, it happens to the best of us. Once you are aware of this, the next step is ensuring that you implement a more balanced lifestyle that satisfies your most precious needs to keep you happy, fulfilled, and balanced.
Next, you get to explore hidden gems from hole-in-the-wall restaurants, to abandoned ghost towns. We've included a few hidden gems lists from Arizona and South Carolina for your exploratory pleasure. Between the Healing Springs in Blackville, SC and the largest abandoned town of Jerome, AZ, there's much to choose from.
Last but certainly not least, one of the greatest benefits of a road trip are the memories created and the adventures experienced. Let your hair down and have fun! Enjoy this time with your travel mates. Take pictures, dance in the rain, meet a stranger, but most of all embrace the beautiful nuances that you will encounter on this journey. Let it feed your soul and replenish your imagination. Most of all don't forget to laugh and smile through it all.
Traveling and experiencing something different from our norm is certain to alter our perspective and enlighten us in ways we never knew. Let this be a reminder to try something adventurous and heart nurturing for yourself. Sometimes we unknowingly lose sight of the happiest parts of ourselves when we are solely focused on work and familial responsibilities, losing that sense of fulfillment and the inner child in us all. Let's get that back! Wherever you decide to travel, rather it be the continental U.S. or abroad, we hope you find peace, gratitude, and the fortitude to pursue the things in life that bring you joy and life changing moments. Happy Travels from the RVL Wellness Family!